I do not know what we can do to stop people like this keeping animals. Will this person in three years be capable of looking after a dog correctly.
Our dog walkers are lucky in looking after very well cared for dogs.
I know a lot of good charities are doing what they can to help dogs.
Need to go and cheer myself up.
Man banned from keeping animals after dog is put down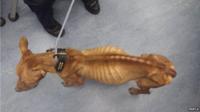 A man's been disqualified from keeping animals for three years after his dog was described as "one of the thinnest" an RSPCA inspector had ever seen.
Cleo was so ill she had to be put down, the charity said.
Alex McWilliams, 38, was given a prison sentence of 18 weeks, suspended for 12 months, at Highbury Corner Magistrates' Court in north London.
McWilliams, from Kentish Town, was given a curfew with electronic tag from 8pm to 7am daily for four months.
He also has to pay costs of £250.
He was previously found guilty in his absence of offences under the Animal Welfare Act after causing unnecessary suffering to Cleo, his female tan Pitbull.
The RSPCA was called to his flat in March after concerns were raised about a "very thin dog".
Inspectors from the charity said they were "shocked" when they arrived and saw Cleo, who was thought to be around 10.
RSPCA inspector Nicole Broster said: "She was one of the thinnest living dogs I have ever seen.
"I was horrified to see how thin and weak she was. I did not think it was possible that any living animal could be so underweight. She was skin and bone
We are updating the site
So please contact us if you cannot find what you want
Recent Posts
Archives